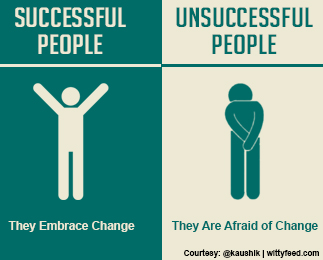 Secrets of Successful People
Everyone wants to be successful in their life. Nobody wants to lead a life like a minion with mediocre existence. There are plenty of habits that successful people share with each other. We came across a powerful info graphic by success story that differentiates the successful people from those who are unsuccessful.
For instance successful people will take risks, are humble and exude joy. Whereas unsuccessful people think they know it all, blame others, never set goals and always get angry at others. If you want to be successful in life and want to reach higher levels of accomplishments, then do try to follow some of the given habits, if not all of them.
---
The most common Habits of successful people….
They are adaptable and embrace change, while the majority are creatures of comfort and habit. They are comfortable with, and embrace, the new and the unfamiliar.
They look for and find opportunities where others see nothing.
They find a lesson while others only see a problem.
They are solution focused.
They consciously and methodically create their own success, while others hope success will find them.
They are fearful like everyone else, but they are not controlled or limited by fear.
They ask the right questions – the ones which put them in a productive, creative, positive mindset and emotional state.
They rarely complain (waste of energy). All complaining does is put the complainer in a negative and unproductive state.
They don't blame (what's the point?). They take complete responsibility for their actions and outcomes (or lack thereof).
While they are not necessarily more talented than the majority, they always find a way to maximize